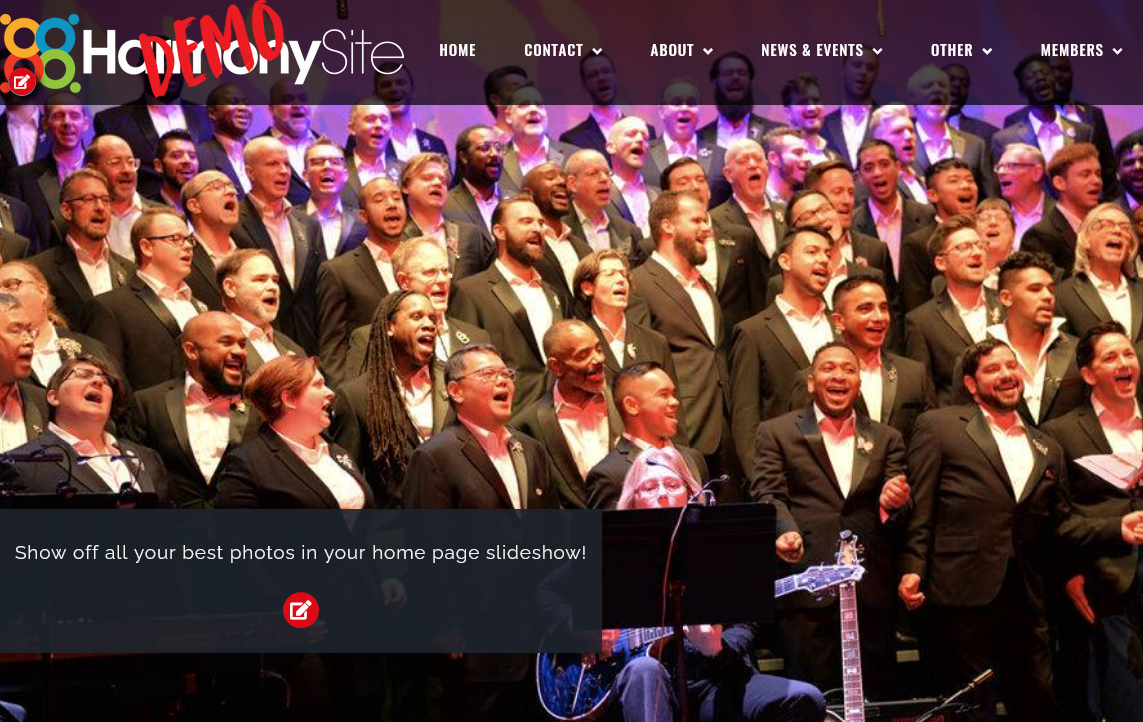 Lots of developments in the HarmonySite universe lately…
Some major organisations in the choral-singing universe have recently chosen HarmonySite as their platform of choice.  These include…
These 4 organisations join the already extensive list of choral singing associations around the world that are using HarmonySite, including…
Sweet Adelines International regions 1, 2, 5, 6, 8, 11, 12, 14 and 16 (plus Region 34, mentioned above)
As mentioned above, Harmony, Incorporated areas 1, 2, 3, 4, 5, and 6 (all of them)
Barbershop Harmony Society (BHS) Dixie district
Barbershop Harmony Australia (BHA)
Barbershop Harmony New Zealand (BHNZ)
The Irish Association of Barbershop Singers (IABS)
Nordic Mix (SNOBS and SAI Region 32 combined)
The World Harmony Council (umbrella association of all national Barbershop associations worldwide)
The Arizona Choral Arts Association
Adelaide Choral Network
And even some associations that are nothing to do with singing…
South Australian Band Association (SABA)
The Liberal Catholic Church of Australia (LCAA)

We were delighted recently when Westminster Chorus (westminsterchorus.org), arguably the finest male-voice ensemble in the world, decided to switch to HarmonySite.
Finally, a big shout-out to Making Music (www.makingmusic.org.uk).  Making Music is the umbrella organisation of all community choirs, bands, orchestras, etc in the UK.  They have decided to become a RESELLER of HarmonySite, marketing HarmonySite under their own banner/brand (the "Making Music Platform"), and selling it to their own member groups.  With over 4000 member groups, hundreds of which have already adopted HarmonySite (sorry, "Making Music Platform"!), their adoption of HarmonySite represents a major milestone in the growth of our company.
For those that don't know, there are now FOUR varieties of HarmonySite…
For regular choirs/choruses/clubs/chapters.
For quartets – similar to a chorus HarmonySite, but specifically tailored for the needs of a quartet.
For "parent bodies", such as the ones listed above.  These association-level HarmonySites have a feature that's unique across the Internet:  They integrate with the HarmonySites of all of the chapters within their organisation.  All the chapter HarmonySites – AND the parent HarmonySite – all share a common database, so that if a member's details are updated in the chapter HarmonySite, the updated details are instantly visible in the association's HarmonySite (and vice versa).  Not only MEMBER details are shared.  Also shared are the details of the chapter/club, the ensembles, quartets, events, news, and more.
For conventions.  Many of the parent bodies listed above have an annual convention, where their members register as delegates
If you manage an association of music groups (such as an SAI region, a Harmony Inc area, a BHS district, a choral association, etc), contact us and find out how a HarmonySite can save you HOURS of admin work!
Share this...