What is the HarmonySite App?
HarmonySite has a companion app, available for both Apple and Android phones and tablets:
The purpose of the app is to complement the functionality of the HarmonySite Members Area, by providing quick access to some features that are most useful in a hand-held device, so you don't need to log into your HarmonySite website via your phone's web-browser for such tasks.
The app provides functionality for group MEMBERS. Group admins continue to do all their administration tasks from the website – there are no admin tools within the app.
Pricing
The HarmonySite app is FREE for users to download and install. However, for it to work with a HarmonySite, the group will need to purchase an annual subscription to the app. It's not expensive – usually less than $1 per user per year.  See exact pricing.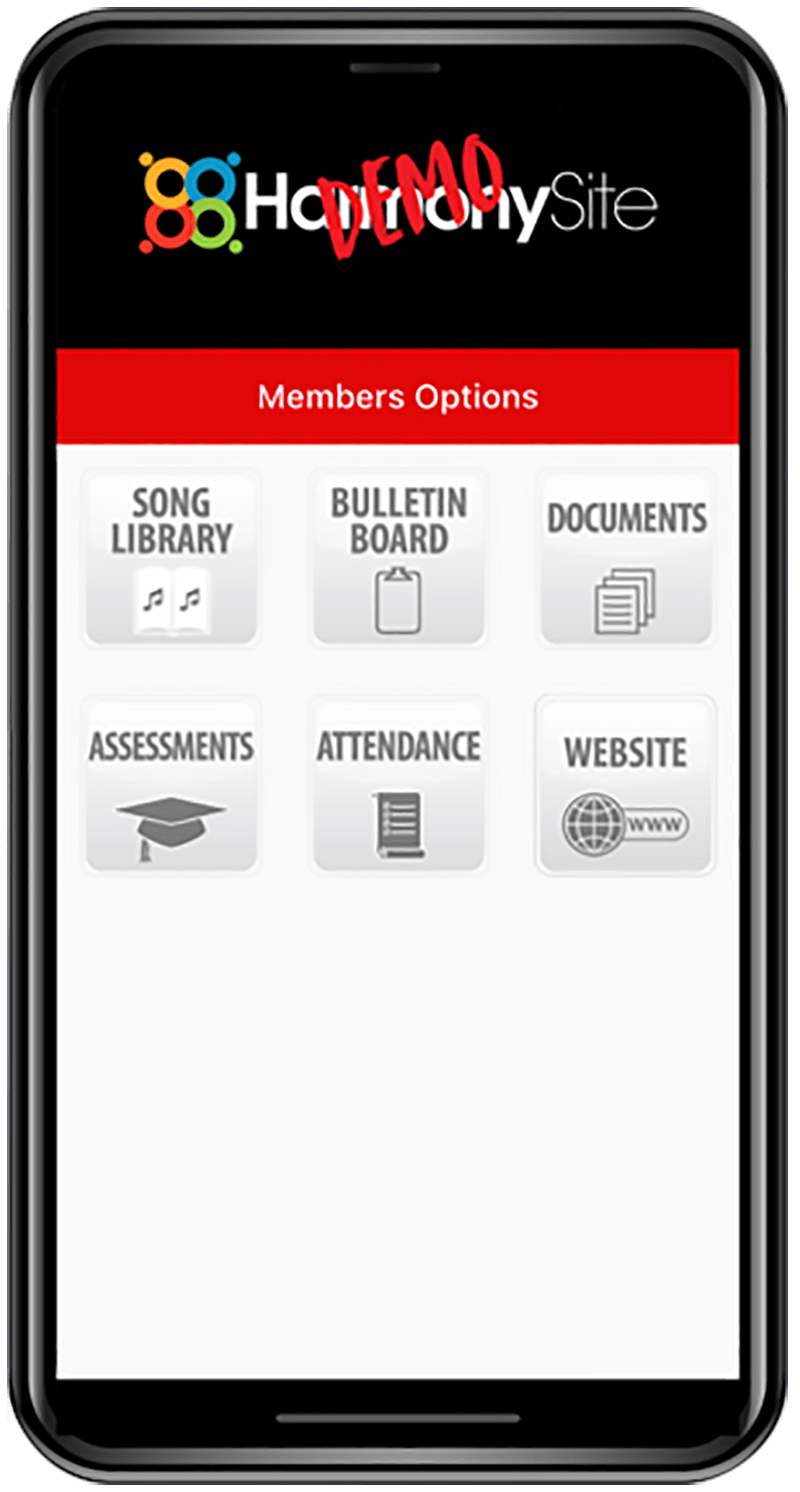 Features
We're adding new features to the app all the time – these are the current features…
Access your music library

View all the songs/music in your group's music library, exactly as they are stored on your group's website
Group the list of music by category or status (or alphabetically)
View sheet music – PDF, JPG, PNG, etc
Listen to learning tracks
Playback at half speed or 1.5x speed
Pan left and right for recordings where one part is on one side and the other parts are on the other side
Move forward or back to any position within the track
Skip back or ahead 10 seconds
Loop playback
Download each file to your device, to open in your favourite music/PDF app

Access your Bulletin Board / Documents

Access all the files, documents and news from your website's Members Area
Group the list by category, sub-category or status (or alphabetically)
Download each file to your device, to open in your favourite app

Assessments (Performance Readiness)

View the list of past assessments you have submitted
Listen to each recording you submitted
Submit a new recording, by choosing an MP3 file from your device
VERY COOL: Submit a new recording DIRECT FROM YOUR FAVOURITE VOICE-RECORDER APP, by simply using the SHARE option to "share" the recording to HarmonySite

Event Attendance

This feature is exclusive to the app – not available in the website version of HarmonySite…
Record your attendance at an event by simply scanning the event's QR code. Your event coordinator can print out the event's QR code and make it available somewhere prominent at the event, then each member can simply scan the QR code with their app to mark themselves as having attended the event.

Playlists

This feature is exclusive to the app – not available in the website version of HarmonySite…
Create playlists of your learning tracks
As many playlists as you want, and as many learning tracks on each playlist as you want

Custom pages/screens

Certain simple pages within your Members Area can be made available within the app for your members (as long as they meet certain criteria)

Update your member details

Personal details – name, partner, date of birth, email address, phone numbers, etc
Club/chapter details – photo, bio, email preferences, etc

One click to open your website in your device's regular web-browser, in case there are parts of your site you wish to access that are not available in the app
Access multiple HarmonySites: If you belong to more than one group that uses HarmonySite, you can access all of them through one app (as long as each group has enabled app access)
App developed by Northsoft Solutions www.northsoftsolutions.com